"The decision made by the AIB that day will determine whether I will be able to continue participating in my full course load, as well as graduate this May as scheduled," Ingle continued, adding, "This is not transgender, woman's rights, or wage issue. This is about free speech and the constant misuse of intellectual power in universities."
Trash like this is about all they are getting nowadays. Forget college. Learn to weld. — jtl, 419
via
G. Edward Griffin's Need to Know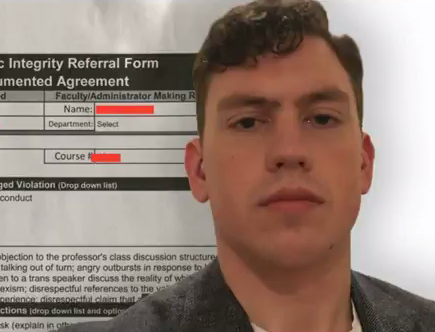 An Indiana University Pennsylvania professor barred one of her male students from a class on Christianity for refusing to read a scripted apology for challenging transgender and feminist arguments. He argued that there are only two biological genders and that the wage gap is a false paradigm. If he is not allowed to return to class, he will not graduate on schedule and will be forced to repay federal grant money. [The facts in this story will make you angry- guaranteed!] -GEG
A student at Indiana University of Pennsylvania has been barred from attending a religious studies class required for graduation after pointing out that there are only two genders.
"Later this week I will be defending myself and my FIRST AMENDMENT RIGHTS in front of the Academic Integrity Board (AIB) of the Indiana Univ. of Pennsylvania (IUP) against allegations of Classroom Conduct violations," Lake Ingle stated in a Facebook post, which was deleted after Ingle retained legal representation.
"I am fighting to make my voice heard. Not only my voice, but the voices of others that oppose popular university opinion."    Tweet This
"The decision made by the AIB that day will determine whether I will be able to continue participating in my full course load, as well as graduate this May as scheduled," Ingle continued, adding, "This is not transgender, woman's rights, or wage issue. This is about free speech and the constant misuse of intellectual power in universities."
According to Ingle, the class was forced to watch a Ted-Talk on February 28 featuring Paula Stone, a transgender woman, who gave examples of "mansplaining," "male privilege," and systematic sexism. Following the video, Ingle wrote that the instructor "opened the floor to WOMEN ONLY. Barring men from speaking until the women in the class have had their chance to speak."
After some time had elapsed, Ingle stated he "took this opportunity to point out the official view of biologists who claim there are only two biological genders," and refuted the "gender wage gap," after which class resumed as normal.
"The floor was opened, and not a single woman spoke. Thirty seconds or so
passed and still no woman had spoken. So, I decided it was permissible for me to enter the conversation, especially because I felt the conversation itself was completely inappropriate in its structure," Ingle told Campus Reform. "I objected to the use of the
anecdotal accounts of one woman's experience to begin a discussion in which they were considered reality. It was during my objection that Dr. Downie attempted to silence me because I am not a woman."
On February 29, Ingle met with his instructor, who he says gave him two documents—an Academic Integrity Referral Form and Documented Agreement. Photos of each document, along with a letter from IUP Provost Dr. Tomothy Moerland, were provided to Campus Reform.
Both the referral form and agreement charge Ingle with "Disrespectful objection to the professor's class discussion structure; refusal to stop talking out of turn; angry outbursts in response to being required to listen to a trans speaker discuss the reality of white male privilege and sexism; disrespectful references to the validity of trans identity and experience; [and making a] disrespectful claim that a low score on any class work would be evidence of professor's personal prejudice."
According to the documented agreement, IUP is now attempting to force Ingle to apologize, stipulating that "Lake will write an apology to the professor which specifically addresses each of the disrespectful behaviors described above."
Moreover, the agreement proclaims that on March 8, "Lake will begin class with an apology to the class for his behavior and then listen in silence as the professor and/or any student who wishes to speak shares how he or she felt during Lake's disrespectful and disruptive outbursts on 2-28."
"The Office of the Provost has received a request from [REDACTED] Instructor for RLST 481 – Special Topic – Self, Sin, and Salvation, to remove you from class due to behaviors that significantly disrupt the learning process in this class," the letter to Ingle from Provost Moerland states. "Due to the serious nature of the issue, you are barred from attending this class in accordance with the Classroom Disruption policy."
FOLLOW FLYOVER PRESS ON FACEBOOK
The Essence of Liberty Volume I: Liberty and History chronicles the rise and fall of the noble experiment with constitutionally limited government. It features the ideas and opinions of some of the world's foremost contemporary constitutional scholars. This is history that you were not taught at the mandatory government propaganda camps otherwise known as "public schools." You will gain a clear understanding of how America's decline and decay is really nothing new and how it began almost immediately with the constitution. Available in both paperback and Kindle versions.
You might be interested in the other two volumes from the three volume set: The Essence of Liberty Volume II: The Economics of Liberty and The Essence of Liberty Volume III: Liberty: A Universal Political Ethic.